Matier and Ross reported on Saturday
some communications between 49ers CFO Larry MacNeil and Brisbane officials. Good idea for the team to hedge their bets considering the expense of the future stadium, even though the city and the team have done a good job weakening the opposition in Santa Clara (the November vote is non-binding, for instance).
Brisbane, for those not from the Bay Area, is a hilly enclave along the bay, just south of San Francisco. The site in question is called
Baylands
, a 660-acre area sandwiched between U.S. 101 and Bayshore Blvd. (formerly U.S. 101 decades ago). The industrially-zoned land (shaded in
red
below) is comprised of a large railyard to the west of the Caltrain right-of-way, landfill area to the east of Caltrain, and a tidal lagoon at its south end.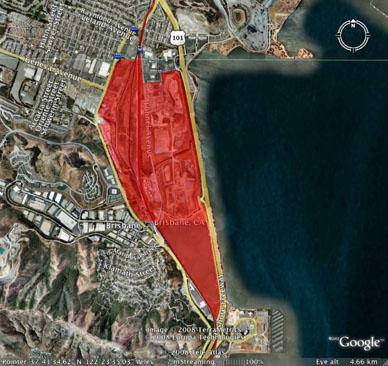 The site has a number of advantages over both Candlestick/Hunters Point and the Santa Clara site. Freeway access is pretty much a no-brainer as it can be served by two exits on Southbound 101 (Candlestick Park and Sierra Point Pkwy.) and three exits on Northbound 101 (Bayshore Blvd., Sierra Point Pkwy., and Candlestick Park). Those using I-280 can cut over using Geneva Ave. The aforementioned Caltrain runs right through the heart of the site and has its Bayshore Station at the north end. Muni's T-Third light rail line also its southern terminus at Sunnydale Ave. Both are just a short walk from the Baylands site. High-speed rail would also run through the site, though there are no plans for a station at the site.
Baylands may well be converted into its intended purpose: a green industry zone. Until then, it's a good idea to have city leaders consider a 49ers stadium there. Obviously, there will be issues involving financing of the stadium and site cleanup, but from a site availability standpoint it's as good an option as the two already under consideration.